IMAGE AND COMMUNICATION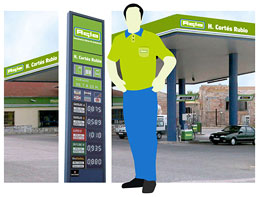 Image is very important for a service station, this is how we identify a service station, we associate the quality of the product with it, the service that it provides, even how we are treated.
This is why I recommend that our associates dress their service stations with our image, the image of AGLA, which in addition to being eye-catching and visually pleasing, is an image that generates proximity and trust for our clients. This would place AGLA as the third group of service stations under the same flag in Andalusia; with our image not only do we identify our station, but also our retailers, the lorries that supply our products and a portion of the products that we sell (antifreeze, oil, motorbike mixes, carrier bags, receipts, etc.) our website www.agla.es and www.centraldtodo.es with exclusive dedication to our clients or our magazine "Gasolina".