Bienvenidos a Asociación de Gasolineras Libres AGLA
Advantages offered by AGLA
Collaborations, promotions and draws
Article La Cronica
AGLA

and

DTODO

BUY

LAND IN

STONE

SOURCE

.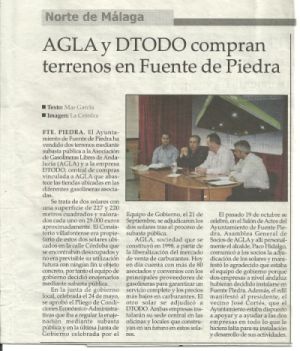 AGLA and DTODO purchase land in Fuente de Piedra to build its headquarters.
The municipality of Fuente de Piedra has sold two lots by public auction to the Free Gas Association of Andalusia ( AGLA ) and DTODO company , shopping center linked to AGLA that caters to the different stores in the associated stations.
These two lots with an area 227 to 220 square feet and valued each € 29,000 approximately .
The session was owned villafontense these two lots located on the street Códoba who were unemployed and not foreseeable future use for any particular purpose or object , so the government decided to dispose of equipment subatas mendiante public.
In the local government board meeting on May 24 was approved tender documents Economic and Administrative going mendiante regulate public auction sale at the last meeting held by the Government Team, September 21 ajudicaron
both plots after the public auction process .
AGLA society that was formed in 1998 after the release of fuel sales market .
Today with over 80 partners and agreements with key suppliers to ensure service stations complete and the lowest prices on fuel .
The other solar ajudicó to DTODO .
Both companies will install its headquarters in the offices and in the future to build on these sites .
Last October 19 was held at the auditorium of the City of Fuente de Piedra, the general Asamablea AGLA partners and there personally to the mayor, Paco Hidalgo partners informed the two solar ajudicación and expressed how grateful he was the
government team level because two Andalusian companies have chosen to settle in Fuente de Piedra.
In addition , the mayor said the president , the neighbor José Cortés , that the city was willing to support and help the two companies all they were necessary installation and development of their activities.